Precision Drilling Releases 2022 ESG Performance Data
CALGARY, Alberta, March 28, 2023 — Precision Drilling Corporation ("Precision" or the "Company") (TSX:PD; NYSE:PDS) today announced it has released its 2022 Environmental, Social and Governance (ESG) performance data, which aligns with the Sustainability Accounting Standards Board (SASB), Task Force on Climate-related Financial Disclosures (TCFD) and Global Reporting Initiative (GRI) frameworks.
All ESG disclosure information will now be available on our interactive webpage, which will serve as the primary platform for our ESG content. This new upgraded format will allow the Company to provide accurate, timely, and recurring updates on our ESG efforts and successes.
The webpage is available at www.precisiondrilling.com/esg and provides information on the following:
2022 ESG performance data,
ESG governance structure, processes, and policies,
emissions reduction efforts,
climate risks and strategy,
diversity, equity, and inclusion efforts, and
community engagement, including partnerships with indigenous groups.
About Precision
Precision is a leading provider of safe and environmentally responsible High Performance, High Value services to the energy industry, offering customers access to an extensive fleet of Super Series drilling rigs. Precision has commercialized an industry-leading digital technology portfolio known as Alpha™ that utilizes advanced automation software and analytics to generate efficient, predictable, and repeatable results for energy customers. Our drilling services are enhanced by our EverGreen™ suite of environmental solutions, which bolsters our commitment to reducing the environmental impact of our operations. Additionally, Precision offers well service rigs, camps and rental equipment all backed by a comprehensive mix of technical support services and skilled, experienced personnel.
Precision is headquartered in Calgary, Alberta, Canada and is listed on the Toronto Stock Exchange under the trading symbol "PD" and on the New York Stock Exchange under the trading symbol "PDS".
For further information, please contact:
Lavonne Zdunich, CPA, CA
Director, Investor Relations
403.716.4500
800, 525 – 8th Avenue S.W.
Calgary, Alberta, Canada T2P 1G1
Website: www.precisiondrilling.com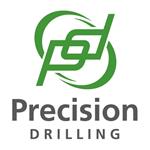 GET THE LATEST UPDATES DELIVERED TO YOUR INBOX